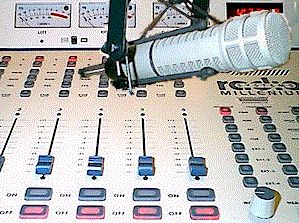 BY JOHN SULYK

Orignial Location http://www.geocities.com/Hollywood/Bungalow/5014/philafm.htm
Click on the

to listen live!


88.5 WXPN / Philadelphia / Eclectic
WXPN is the University of Pennsylvania's AAA format. 'XPN plays some really cool alternative tracks along with folk and is one of a few non-commercial AAA's out there. However, the station is ran mostly by pros, losing it's educational purpose.



89.7 WGLS / Glassboro / Eclectic
"Rowan Radio" is pretty good college station. They play the alternative rock WPLY should be playing along with some pretty good dance tunes. Without doubt, WGLS is more mainstream than most college stations but that's a good thing in my book since they are giving their students more of a real world approach.


90.1 WRTI / Philadelphia / Jazz-Classical WRTI is a jazz and classical station from Temple University. WRTI was a full time jazz station known as "Jazz FM" prior to the WFLN's flip to Modern AC. Now, 'RTI is dayparted with Classical from 6am-6pm and Jazz from 6pm-6am.


90.9 WHYY / Philadelphia / NPR
WHYY is NPR, 'nuff said.


91.3 WVUD / Newark, DE / Eclectic
WVUD is the University of Delaware's radio station. They are pretty much a good eclectic station serving both the student population and the citizens of Newark and surrounding areas very well. They tend to play music one can easily hear on a commercial station, but listening to the jocks Saturday night and Sunday morning jocks is a fun thing to do! The most popular show on 'VUD is "THA WON-TOO PUNCH" which features mostly old school and underground hip-hop. In addition, "THA WON-TOO PUNCH" jocks sound great!



91.5 WDBK / Blackwood / Dance-Alternative
WDKB was silent for a good portion of '98. When WDKB returned to the air, it was a far cry from it's old Freestyle intensive format. WDBK became mostly a hip-hop and mainstream Dance music station for much of 1999 and 2000. WDBK recently shifted towards cutting edge Alternative Monday thru Thursday and cutting edge Dance Friday thru Sunday. They also air local sports. The music may be good, but the production quality is pretty low and most jocks are doing it just for fun. But hey, this is college radio, right? WDKB has a pretty good signal in Camden and Gloucester Counties. WDKB is a service of Camden County College.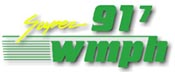 91.7 WMPH / Wilmington, DE / Dance & Disco
"Super 91.7" is operated by the students of the Brandywine School District. WMPH is a 24 hour a day radio station serving the communities of northern Delaware including parts of Pennsylvania and New Jersey since 1969. WMPH is Delaware's only high-energy dance station.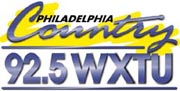 92.5 WXTU / Philadelphia / Country


With the demise of WDSD on a 50kw signal, WXTU remains the only country station in the Philadelphia metro. This station used to be called "WIFI 92" in the 80's. WXTU is voiced by Sean Caldwell and owned by Beasley FM Acquiston Corporation along with WWDB and WWDB-FM.


92.9 WDSD Smyrna DE / Country
WDSD may no longer be on 94.7 (now WRDX), but country in Delaware is still lives. WDSD is live and local during the day, but airs syndicated programming during the evening and overnight hours. This frequency was once home of a satellite-fed Hot AC format. However, Capstar realized their was a hole for an AOR in Wilmington and the Hot AC format was going nowhere. Despite the fact, that the old country format on 94.7 got higher ratings, most of the advertising revenue came from the Dover area. It was a pretty smart business move since WDSD's billing remains the same on a less-powerful frequency.



93.3 WMMR / Philadelphia / Album Rock


This rocker has been around for over 30 years. 'MMR was Philly's rock powerhouse back in the 80's with the "Morning Zoo". WMMR was AOR back in the 80's and Early 90's, but was stunting with an AAA/Classic rock format in 1996. WMMR has returned to an AOR format and is doing a good job with it! A long time Westinghouse station, it was sold to the Greater Media after the CBS/Westinghouse merger. WMMR may have lackluster 12+ ratings, but are still doing quite well in their target demo.


93.7 WSTW / Wilmington, DE / Adult CHR
WSTW is one of two stations with city grade signals in Wilmington. WSTW does very well in the ratings and also bills pretty high. The music selection is very safe with all rhythmic songs testing extremely well with the 25-54 demo before being placed in rotation. However, they are pretty quick to jump on Rock based selections. The station is personality-driven boasting jocks who can always put a smile on your face. Plus, WSTW is not as CUME-driven as your typical CHR. However, there are some downfalls at WSTW like the processing and production (I think some Brian James liners would greatly enhance the overall presentation). WSTW is owned by Delmarva Broadcasting along with WDEL and WXCY.



94.1 WYSP / Philadelphia / Active Rock
'YSP is one of the best Active Rockers I have ever heard. 'YSP has some of the best Active Rock jocks anywhere such as "Cousin Ed" and the syndicated Howard Stern. WYSP used to be a Classic Rocker. They play really good rock, not that awful "Rebel Rock" most Active Rockers seem to play way too much of. WYSP is also the radio home for the Philadelphia Eagles. CBS owns WYSP along with WOGL, WIP, KYW and WPHT.


94.5 WNJO / Trenton, NJ / Oldies
WNJO has a limited signal due to bleed from WRDX to the south and Lancaster's WDAC, which is also on the 94.5 frequency. Until recently, 94.5 was a religious station with the WCHR calls. Since it's sign-on in Spring '98, WNJO has been able to climb to the top of the Trenton book.



94.7 WRDX / Dover, DE / Classic Rock


"94.7 WRDX, The Rock of Delaware" WRDX was a very good Album Oriented Rock station up until October, 1999. Now "The Rock of Delaware" is The OLD Rock of Delaware! WRDX went from a well balance AOR to a standard Classic Rock station like WARW which is on the same frequency down in Washington DC. Now WRDX is the place to hear "Sweet Home Alabama" and "More Than a Feeling" over and over.... It's a shame because the jocks on WRDX are quite good, and the stations overall presentation is good. WRDX targets Delaware, even though a good part of their signal makes it into Philly and Southern New Jersey. The Philly area only has a Classic Hits station (WMGK), so maybe WRDX is thinking that their is a hole for the Classic Rock format. They were competing against powerhouse WYSP, only a few clicks away at 94.1, and now they only have a little bit of competition from both WMGK and WMMR. Classic Rock doesn't bring in high numbers, but it does bring in an attractive advertiser demo.

95.7 WEJM "Mix 95.7" / Philadelphia / Hot A.C.


From classical, to Modern Rock, to Urban Oldies, and now to Hot Adult Contemporary. They station is billing as an "adult CHR (Top-40)", but it is really a pretty standard Hot Adult Contemporary...similar to other "Mix" stations in other cities. This most recent format change happened in June 2001. I would expect to see new call letters on 95.7 soon because WEJM was the Urban Oldies calls.


97.3 WBSS / Millville / Talk-Oldies
This station simulcasts WXKW Trenton for all of South Jersey (See WKXW for station details). WBSS was both a Rhythmic CHR and Mainstream CHR in the early 90's known as "BOSS 97". Faint signal in South Philly and the southern suburbs of PA. However, WBSS can be heard in all three Delaware counties.


97.5 Wjjz The music on NAC/Smooth Jazz stations are more like new age than jazz. NAC/Smooth has been slowly fading away in markets such as Houston, Minneapolis-St. Paul, Albuquerque and Monterey. On the other hand, WJJZ is doing pretty good. This station was known as CHR "Electric 106" and then "Eagle 106". In the early 90's, Danny Bonnaduche used to be one of the members of the "Nut Hut" morning show. In 1993, Eagle 106 switched from CHR and the WEGX calls to "Smooth Jazz 106.1, WJJZ". Chancellor Media owns WJJZ along with WUSL, WIOQ, WYXR and WDAS.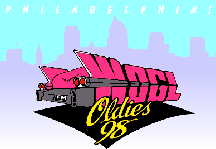 98.1 WOGL / Philadelphia / Oldies
The 98.1 frequency was Philadelphia's hottest CHR in the 80's. "Hot Hits 98, WCAU" dropped its CHR format in 1988 in favor of oldies. The jocks and Charlie Van Dyke liners sound better than ever! Infinity owns WOGL along with WYSP, KYW, WIP and WPHT.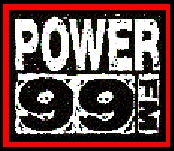 98.9 WUSL / Philadelphia / Urban Contemporary


"Power 99" is Philly's top rated urban station. For a while, "Power 99" had an almost Urban AC sound to it. That all changed in 1997 when Radio One signed on WPHI. Since then, the station has become more hip-hop oriented and dropped its "Quiet Storm" program hosted by legendary jock, Tony Brown. WUSL recently brought back its slow jam show as "Power After Hours". A heritage station, "Power 99" still has very good jocks and mixes. Chancellor Media owns WUSL along with WIOQ and WYXR.


99.5 WJBR / Wilmington, DE / Adult Contemporary


"99-5 WJBR" is the other city-grade signal in Wilmington. Paul Lewis is one of the best AC jocks in the country and the Jim Merkel liners are standard for a market of this size. WJBR airs the syndicated Delilah show at night along with WBEB.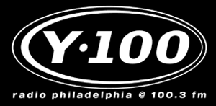 100.3 WPLY / Media, PA / Modern Rock


"Y 100" is actually a Modern AC/CHR with a Modern Rock presentation complete with the "Philadelphia's New Music Alternative" slogan and Jude Corbett liners. The jocks have a Modern Rock mentality and the account executives even sell the station as Modern Rock. Since Y-100 is being sold to clients as Modern Rock, they should become a full-fledged Modern Rocker. Their billing would remain the same and their ratings would improve as the station would become more TSL-driven. Most modern rock stations are active with local bands, and usually have many shows dedicated different alternative genres such as techno and ska, but not Y-100! This station needs serious help. They fired one of the most popular morning jocks in Philly, Paul Barsky, in '98. Y-100 was known as AC "Kiss 100" in the 80's and early 90's. The station changed formats to an adult oriented CHR known as "Z-100" but was later forced to go with the "Y-100" moniker. WPLY is owned by Dan Lerner and consulted by Scott Shannon.



101.1 WBEB / Philadelphia / Adult Contemporary
"B-101" is the top rated FM in town. "B-101" used to be known as "EZ-101" and was pretty low rated. Later on, all the other AC's changed format, leaving 101 the only soft AC in the city. Nothing special here although the John Pleise liners sound pretty good. They also air "Delilah" since WJBR only targets Delaware.



101.5 WXKW / Trenton, NJ / Talk-Oldies
"New Jersey 101.5" is proud to be New Jersey's radio station, not one from New York or Philadelphia. "New Jersey 101.5" is a die-hard hyper local talk station featuring some of the best personalities in the business like Roberta Gale and Jay Sorensen. You will never get bored listening to their weekday talk line-up! Oldies programming is standard overnights and on weekends. WKXW is owned by Press Broadcasting along with WBSS-FM.



101.7 WJKS / Canton / Urban CHR
This New Jersey station is targeting Wilmington with an Urban intensive Rhythmic CHR format. Interesting, because WJKS does not have a city grade signal outside of their studios in Wilmington and the imaging is pure Mainstream Urban. With its transmitter in Cumberland County, it really can't be considered a metropolitan area station, but it can be heard well in some areas. "101.7 KISS FM" debuted on October 8, 1997 at 3:00pm and has been slowly climbing in the Wilmington book. Hopefully WJKS will achieve its goals and add more jocks. The talent is pretty young, yet eager and skillful. WJKS has an excellent signal in Salem, Gloucester, Cumberland and Kent counties. QC Communications owns WJKS.



102.1 WIOQ / Philadelphia / Mainstream CHR


Many see WIOQ as a station with an identity crisis. "Q-102" debuted in 1988 with a traditional Rhythmic CHR format. Over the years the station as evolved into both Urban and Dance intensive Rhythmic CHR and finally to Mainstream CHR in 1998. "Q" had several down books and was not billing as high as it should have (was the 13th top billing CHR in market # 5 when "Q" was Dance intensive). One of the main reasons "Q" did so poorly with a Dance CHR format was because the presentation was too aggressive and many of the music selections were somewhat obscure. "Q-102" has dropped the old "Beat of Philadelphia" slogan, old KTU jingle package and Eric Edwards liners in favor of more traditional CHR jingles, the "Philly's #1 Hit Music Station" slogan and Chris Corley liners. "Q-102" has three of the best jocks in Philly radio, PM drive host Terry "Motormouth" Young, evening jock Chris Marino and overnighter Joe Momma. WIOQ remains a Dance-friendly station with many dance recurrents and great mixshows. Chancellor Media owns WIOQ along with WUSL, WYXR, WDAS-AM/FM and WJJZ.



102.5 WRFY / Reading Rock / CHR
I know this too is not a metro area radio station, but it can be heard very well throughout the Pennsylvania and Delaware. In the 80's and early 90's, "Y-102" was a mainstream CHR. "Y-102" is now a rock leaning CHR during the day and a rock station at night. Where else can you hear Robert Palmer's "I Didn't mean to turn you On" into Everclear's "Everything to Everyone"? Clear Channel Communications owns WRFY.



102.9 WMGK / Philadelphia / Classic Hits


"102-9 MGK" is a pretty standard Classic Hits station which is more of a "70's AC". A fantastic signal too.



103.3 WPRB / Princeton, NJ / Princeton University
This station is liscened to Princeton University. Good station, but organization can help this station get some killer ratings and provide a unique opportunity for Princeton students. Good signal in the city and an excellent signal thoughout Pennsylvania and New Jersey.


103.7 WXCY / Havre de Grace, MD / Country
WXCY is not a metro area station, but it does market itself in Delaware. WXCY is actually a Baltimore fringe market station. It's amazing how they market themselves to an area where the slightest amount of tropospheric ducting will bring in Atlantic City's WMGM instead of WXCY. Delmarva Broadcasting owns WXCY along with WSTW and WDEL.


104.5 WSNI / Philadelphia / Hot Adult Contemporary


`Alice 104-5' used to be "Star 104.5", a Hot Adult Contemporary station. WYXR dropped the "Star" moniker in favor of "Alice 104-5" and did some pretty big format tweaking. The format now is more of a Modern A.C. hybrid with a lean towards what could be called Classic Hits. More on the format as it develops here..... The female named stations are big in other parts of the country, but this is the first time a major market station on the east coast has used it. "Alice 104-5" is also he home of former "American Journal" host Nancy Glass in the mornings.


105.3 WDAS / Philadelphia / Urban Adult Contemporary


WDAS is home to the syndicated Tom Joyner show in the morning and new and old R&B during the day. "The Quiet Storm" with Tony Brown can now be heard on WDAS beginning in the early evening. WDAS is often the top rated Urban signal in Philly and has retained its focus over many years. WDAS is owned by Chancellor Media along with WUSL, WIOQ, WYXR and WJJZ.


106.1 WJJZ / Philadelphia

106.9 WKDN / Camden, NJ / Religious
WKDN is a right wing Christian Talk station and a virtual no show in the ratings book. Many companies tried to buy them, but the owners will not budge.


107.5 WBYN / Boyertown / Religious
WBYN is the rural version of WKDN.


107.7 WSNJ / Bridgeton / Full Service
WSNJ is a full service community oriented station for Bridgeton, NJ. They play a lot of Big Band for some reason. WSNJ has a great signal throughout the entire area.


107.9 WHHS / Havertown PA / Various
WHHS is the longest running high school radio station in the country. They are only pushing 14 watts, so the coverage area is limited to the South-Western suburbs of Philly (Ardmore, Springfield, Drexel Hill area). WHHS will be losing the 107.9 frequency as of Winter 2003 and are actively seeking a new frequency.